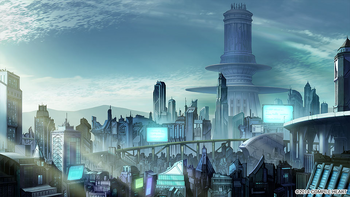 Middleton is the main setting of Omega Quintet. It is the town that the Verse Maidens protect and also the place where a very small population of humans live due to the Blare.
In-game, the player can go to town via the Town Map and speak with the various denizens of Middleton to accept quests as the story progresses and their Support Rate increases.
Middleton Northwest Zone
Riverside Complex
Central Office District
Storage Tank
Riverside Research Institute
Middleton Northeast Zone
Palace
Nakasu Broadway
Central Twin Buildings
Middleton Southeast Zone
Triangle Tower
Medical Center
Middleton Southwest Zone
Nakasu Alley
Old Middleton Dome
Neo Middleton Dome
Ad blocker interference detected!
Wikia is a free-to-use site that makes money from advertising. We have a modified experience for viewers using ad blockers

Wikia is not accessible if you've made further modifications. Remove the custom ad blocker rule(s) and the page will load as expected.